Volkswagen vehicles are known for their performance, endurance, and reliability; when something goes wrong with any of those qualities, the driver's experience is seriously affected. It's important for automotive technicians, drivers, and enthusiasts to view their cars as a whole entity—one that relies on routine maintenance in order to perform well daily. Your Volkswagen is made of many series of systems and components that are again broken down into smaller parts and pieces. If any one of these smaller components fail, then the larger components that add significant function to your vehicle's performance can suffer as well.
The smaller components of a car generally keep everything held together. So when even one screw is loose it can compromise the entire vehicle. The muffler bracket, a lesser-known vehicle part, actually has a critical role to play in your Volkswagen's performance. We'll talk a little more about what the muffler bracket is and how it functions, but it's most important that you're also able to recognize the signs and symptoms of muffler bracket failure in your Volkswagen. Since the symptoms can sometimes be alarming, it is helpful to know more about prevention and what you can do to keep your Volkswagen in optimal condition.
How a Muffler Bracket Functions
The muffler bracket, also sometimes referred to as the exhaust hanger, does exactly that—it keeps the exhaust safely "hanging" from beneath your car. As you might imagine, if the muffler bracket loosens at all, it can not only cause noticeable symptoms and diminished performance, but it's only a matter of time before things progressively get worse. The muffler and vulnerable parts of the exhaust system are located mostly on the bottom of your car, lining the chassis. If the car goes over a bump too quickly—especially if the suspension is lowered—then you could suffer damage to the exhaust system, which can also loosen the muffler bracket. Although small and seemingly insignificant, your Volkswagen's muffler bracket plays a big part in keeping your car intact.
Symptoms of Muffler Bracket Failure
At first the symptoms of a failing muffler bracket might be slight, like a rattling or light vibrating under your car, particularly after going over a bump or divot in the road. If the problem worsens, you might hear your muffler or exhaust bumping up against the chassis. Finally, if the bracket has come completely off, your exhaust system could be left dragging—no one wants to deal with that. Just as the symptoms worsen, so does the damage done to the exhaust system. Any of these symptoms should alert you that something isn't quite right with your Volkswagen, and it's best to take it to a trusted Volkswagen repair shop for an inspection immediately to rule-out any other more serious problems and to prevent it from getting worse.
The Importance of Preventive Care
It's tough, if not impossible, to isolate what preventive care or maintenance procedures are most important for your Volkswagen; as you can see, even the smallest parts play a huge role in how our vehicles function. Therefore, it's best to take a more holistic approach to vehicle care—including overall inspections in your maintenance routine. Working with your reliable Volkswagen automotive specialist, you can plan a maintenance routine that aligns with the manufacturer's recommendations but takes into consideration your unique driving habits and conditions. Some maintenance procedures might need to be performed more often than others, like oil changes; however, the more regularly your car gets serviced, the less likely it is to experience problems like muffler bracket failure.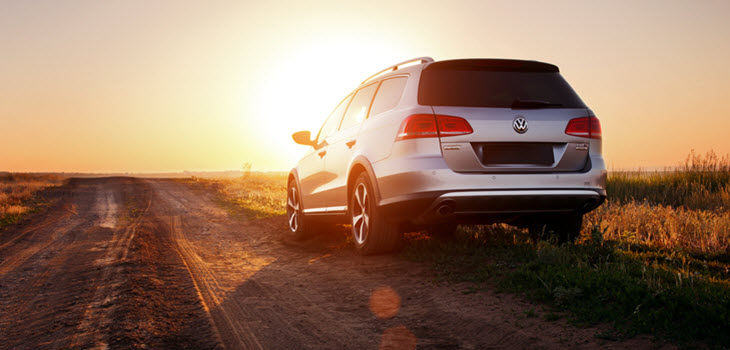 How We Can Help
The European import experts here at Das European Autohaus have serviced a diverse clientele in the areas nearby Spring and Houston, TX, including many of those with Volkswagen vehicles. We consider ourselves experts in the various Volkswagen models and take pride in our ongoing education to stay current with design and engineering trends. We approach every diagnostic case with meticulous attention to detail because we know that an accurate diagnosis is what predicts the most successful outcome in auto repair. The signs of muffler bracket failure can mimic the symptoms of even more severe issues, so it's important to act quickly. If your Volkswagen is exhibiting any of the above-mentioned signs of muffler bracket failure, please contact us right away to schedule an inspection.
* Volkswagen Passat on Dirt Road image credit goes to: kurmyshov.