If you own a Mercedes, then you likely appreciate the importance of auto maintenance. But vehicle maintenance doesn't always refer to oil changes and tune-ups. Taking care of a luxury European import like a Mercedes comes with the special responsibility to maintain both its outward appearance and internal functioning. There are many benefits that come from taking care of your Mercedes' exterior paint.
What Keeping Your Paint Clean Does for Your Mercedes
Improves the Appearance
Mercedes have a sleek, luxurious look that car buyers are immediately drawn to. If your Mercedes' paint is beginning to dull or wear, keeping it clean can help restore it to its most beautiful exterior condition, just like a brand new car.
Maintains the Paint Job for the Life of the Vehicle
One of the best ways to keep your paint from chipping or becoming dull is to properly wash it. Washing your vehicle is a method of preventive care that will keep the paint looking new and glossy for years to come. In fact, manufacturers usually recommend washing vehicles once per week for optimal results.
Retains the Value
One of the first things buyers notice in a vehicle they consider buying is the outward appearance of the car. By keeping your Mercedes' paint job in ideal condition, you are also retaining its value. When paint becomes worn, chipped, or damaged, the value of your car can significantly decline.
In order to ensure the best results, it's important to know a few tips and tricks that can help you avoid damaging your paint job when washing your Mercedes. If you do not feel comfortable washing your car yourself, you may want to consider hiring a professional to properly clean it. Here are some tips on how to best care for your Mercedes' paint:
Wash, Polish, and Wax
Cleaning the exterior of your Mercedes will involve 3 processes: washing, polishing, and waxing.
Use the Right Products
It is critical that you use the appropriate materials throughout this process, including the proper car wash solution and/or prewash solution. Before attempting to use specific materials, check with your Mercedes automotive specialist.
Avoid Stains and Hard Water Spots
When washing, it helps to wash one area and then rinse it before moving onto the next section, then dry immediately when finished. This will help keep hard water from etching the paint or leaving spots on your car.
Find What's Right For Your Car's Needs
Polishing and detailing your Mercedes may require specific tools or techniques. If your paint job is already in good condition, you can simply polish the car with a microfiber towel and a bottle of polish. If your paint job is in need of a bit of a facelift, you may need to use a compound product that is a typically more aggressive stain-remover.
Know When to Quit
We aren't all paint care experts, and sometimes accidents happen. If you accidentally damage the paint on your Mercedes when cleaning it, it's best to contact a professional for assistance. Furthermore, the presence of rust will require the help of a Mercedes auto body expert. While it's tempting to try to save money on regular car washes, more benefit will come long-term from routine paint care and maintenance. If you aren't comfortable washing and detailing your car yourself, it's always best to cut your losses and have it done by a professional.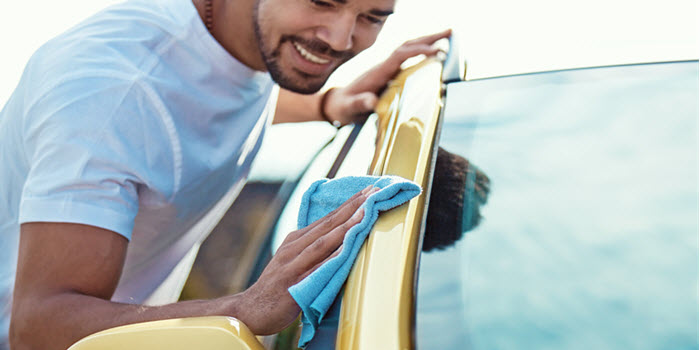 At Das European Autohaus, we address all levels of automotive care, including the exterior condition of our clients' cars. We specialize in European import vehicle such as Mercedes and it is our mission to uphold the strict standards and high expectations that often accompany these fine machines. The exterior of your Mercedes is like the crowd's first impression of walking through the entrance of a grand event. Unfortunately, when a vehicle's paint is not maintained, it significantly decreases the overall value of the car. Exterior maintenance is often just as important as other routine care such as oil changes and tune-ups, and at Das European Autohaus we understand the importance of all aspects of vehicle care. Servicing Mercedes in the cities nearby Spring and Houston, Texas, we are the highest-rated dealership alternative in the area. Contact us today to learn more about how we can help you care for your Mercedes paint.
Red Mercedes image credit goes to: kurmyshov.