Most drivers are aware that BMW's are superior built vehicles that offer durability and comfort and as a result they are willing to pay the higher prices for the car and for things like routine service appointments. Of all areas on a BMW the most commonly referred to "problem area" is its' cooling system. Over time it is possible for the cooling system to become damaged or for leaks to develop that affect the engine's performance and cause overheating. In order to keep your vehicle in proper working condition and to prevent damages and issues with your BMW's cooling system follow these steps to maintain your cooling system.
Why The Cooling System Is Important
The cooling system in your BMW is obviously an important part of your vehicle's engine. Preventing overheating and regulating temperature will help ensure your car performs at a high level for a sustained period of time. The coolant in the cooling system needs to be checked and inspected on a routine basis as part of your BMW's regular service schedule. That way should slight damages or cracks be discovered you can make sure they get repaired before they expand into larger problems.
Steps To Keeping Cooling System Maintained
To keep the entire cooling system functioning properly it is important that you take care of it piece by piece.
Start with the radiator– BMW's can unfortunately have issues with the radiator so having it inspected routinely by BMW experts is an important step to maintaining the cooling system.
Check the water pump– Another extremely common cause of problems with the cooling system comes from the water pump belt. Sometimes the issue is as simple as adjusting the tension in the belt to improve efficiency but it will also need to be replaced depending on the recommended service of your vehicle.
Consider other important components– Make sure to regularly check the hoses in your cooling system for any leaks or damage. No matter if they are small they will still leak coolant from the system and will need to be replaced or repaired. Another thing to look for are any clogs in the cooling system that prevent fluid from running smoothly throughout it. Lastly, make sure to check the fan and the overall cooling system for efficiency and to be sure that it is functioning properly.
Don't Forget The Thermostat
Another overlooked but crucial component of the cooling system is your vehicle's thermostat. If there are any issues or problems that arise with the thermostat it should be checked and repaired as quickly as possible. A rule of thumb is to replace the thermostat or at least check it every time you replace the water in your car.
What Happens If You Ignore Service?
An overheating engine is no joke and can lead to numerous issues for your vehicle. Whether it is a blown head gasket or damaged cylinder heads the replacement parts become quite expensive very quickly. Factor in the cost of labor and you could be looking at thousands of dollars in repairs and maintenance. While it may not seem like a huge issue in the moment just remember that the sooner you have your car looked at and taken care of the less expensive it will likely be for you.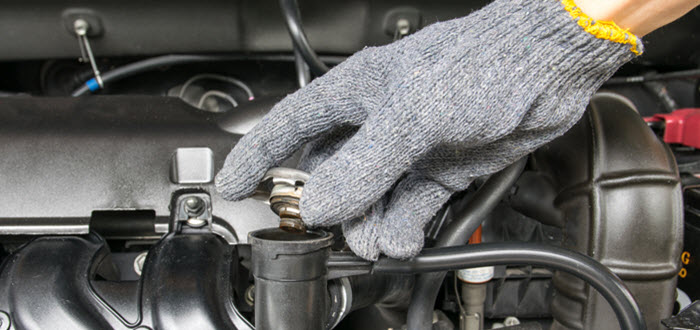 Where To Find Proper Service
For drivers throughout Spring, Texas and the surrounding areas the thoughts of an overheating car are all too real. With extreme temperatures it becomes even more important to make sure your vehicle's cooling system is in proper working order. Specializing in European-made vehicles including the complete line of BMWs are the experts at Das European Autohaus. Our mechanics understand the importance of your BMW receiving the level of service and care it needs to continue performing at the level you expect it to. By making sure your cooling system is properly maintained we will help prevent your car from overheating and the excessive damages that can be caused. Should problems be found during our thorough inspection of your vehicle we will make sure that any repairs needed our handled by our BMW specialists. This way you can be sure your car is receiving the quality of care it would at the dealership but with a more personal touch at an affordable price. Instead of risking long-term damages to your car by avoiding service, call the experts at Das European Autohaus to schedule an appointment for cooling system maintenance today.