Oil services are perhaps one of the most imperative aspects of ongoing vehicle maintenance for any car, let alone one with performance levels like a BMW. The reason for this is that without the oil in your engine being clean and filled properly, all of the moving components that rely on continued, adequate lubrication could fail or malfunction. As you can imagine, this leads to other detrimental effects on your BMW's health and performance. The routine services like oil changes and filter changes could prevent serious issues from occurring, can prevent thousands of dollars in repair bills down the line, and are critical to maintain the high standards of BMW ownership which include performance and longevity. If you come across an oil leak in your BMW, be sure to address the problem right away—otherwise you'll likely end up paying a hefty repair bill. Here are some issues that could potentially cause an oil leak and what you'll need to do to fix them:
Worn or Insecure Drain Plug
If you're one of the fortunate ones, your BMW's oil leak could be due to a simple issue like the drain plug not being fully engaged. Sometimes when you leave an oil change, technicians aren't as thorough as they should be. When they drain your oil from beneath your car, it is possible that they don't always replace it properly. However, the leak could have nothing to do with human error and everything to do with a corroded plug. On older BMWs especially, drain plugs can become worn out or broken from routine oil changes. A trusted technician should inspect the plug area first to make sure that it is firmly in place and that there is no leaky residue around the plug itself.
Untightened Filler Cap
Another less sinister cause of an oil leak in your BMW could simply be due to a filler cap not being securely tightened before driving. The pressure that is created where the oil is housed can force the oil out of the inadequately placed filler cap, causing oil to drip down your engine while driving. Luckily the fix is rather easy, but you'll likely encounter a bit of a mess in there in the process. The solution is simple: replace your BMW's filler cap with a new one (if it's worn out) or simply secure it more tightly.
Worn Out Oil Filters
Most automotive experts recommend that you change your oil filter each time you get an oil change. While not everyone may agree with this method of care, it certainly is precautionary. If you do not have your oil filter replaced, it can lead to leaks and debris buildup in your engine. Oil filters are not a one-size-fits-all component; it is critical that you replace old oil filters with new ones that are the correct size and fit for your BMW. Automotive specialists who work with BMWs frequently will be able to recognize the correct part for your vehicle and order it if necessary—this includes filler caps and drain plugs too.
Faulty Valve Gasket Seal
The valve gasket is what seals the engine oil to remain within the engine components it's responsible for lubricating. It also seals the areas between the engine block and the oil pan. Seals can become compromised when oil buildup accumulates and creates a pressurized atmosphere for the seal to burst or explode, in a sense. The valve gasket or seal usually remains intact in newer BMWs; but for those of us who drive older BMWs, it is imperative to have the valve gasket inspected frequently for leaks.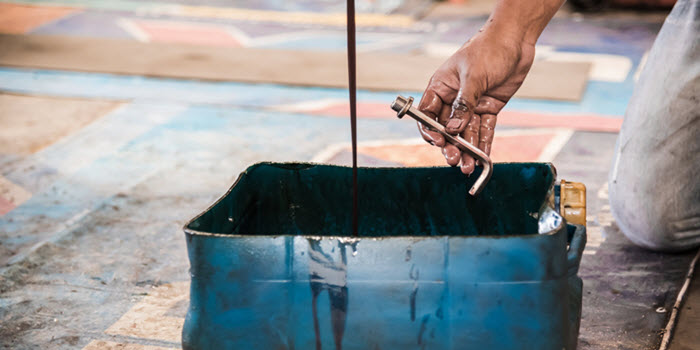 How We Can Help
At Das European Autohaus, serving the areas of Spring and Houston, TX, we specialize in Eurpoean import vehicles like BMWs. We have a passion for performance, and take pride in our ability to detect and address frequent BMW issues like oil leaks with haste and accuracy. Oil leaks can be messy and expensive if not properly diagnosed the first time, and the best way to prevent an oil leak is to stay on top of your routine oil services. Contact us to schedule an oil change, an inspection, or to help take care of an existing oil leak—we look forward to getting your BMW back to it's old self again.