Mini Coopers are not only nostalgic and fun to drive, but their handling ability is astounding. MINIs are known worldwide for their paradoxical, but impressive, compact size and heightened performance. The Countryman, Clubman, or any customized MINI offer turbocharged engines that rival the top-rated vehicles in all categories. Despite their spectacular reputation for impeccable engineering and design, even the most magnificent machines require maintenance, repair, and sometimes malfunction. In busy cities like Spring, TX and Houston, TX, it is especially important to stay on top of vehicle maintenance; getting caught in traffic when your MINI is overheating can be highly inconvenient, and sometimes even dangerous. High-performance vehicles such as MINI, BMW, Porsche, and other European imports are a privilege to drive—finding the right automotive specialist is critical for the longevity and durability of your car. Mini Coopers are not immune to issues like engine overheating, and it is important that all MINI owners have an idea of what fixing such an issue entails.
Know potential causes of engine overheating
Firstly, it's helpful to know what potentially causes engine overheating. The cooling system in your MINI, just like all the other parts of the vehicle, need maintenance and repair in order to function properly. Not surprisingly, summertime is when we see more vehicles overheating on the side of the highways. It is a good idea to have your MINI checked out by a nearby automotive specialist in Houston or Spring before summer hits so that you don't get caught on the roadside. Some of the most common issues that cause engine overheating, particularly in MINIs or BMWs are: low coolant levels (possibly due to engine leaks), radiator malfunction or failure, or water pump failure. The first issue of low coolant levels is relatively simple to fix; however, the other two potential causes require a high level of skill and automotive knowledge to properly resolve.
Pull off to the side of the road
If your engine overheats, the first thing you should do is pull off to the side of the road—safety is always the priority when you are experiencing car trouble. You should allow your engine to cool for a while before attempting to check the coolant level; while waiting for the engine to cool, you can check underneath the engine for leaks after a few minutes. If there are no leaks, you can top off the coolant with more antifreeze, if you carry it in your car, or with water temporarily. However, in the future it is critical to have your MINI inspected and have a tune-up before summer temperatures hit; an expert automotive specialist can detect an issue early on and prevent more serious problems from occurring.
Tow your car to a reputable auto specialist
If coolant is leaking from the engine then you should not drive your MINI; you should have it towed to the nearest, reputable automotive specialist for an accurate diagnosis. As previously mentioned, there are several things that can cause a MINI engine to overheat; the problem could be as simple as refilling the coolant, or it could be more complex, such as radiator or water pump issues. MINI coolant systems are pretty straight forward, but without proper automotive training, knowledge, experience, and specialization, one can turn the problem from bad to worse relatively easily.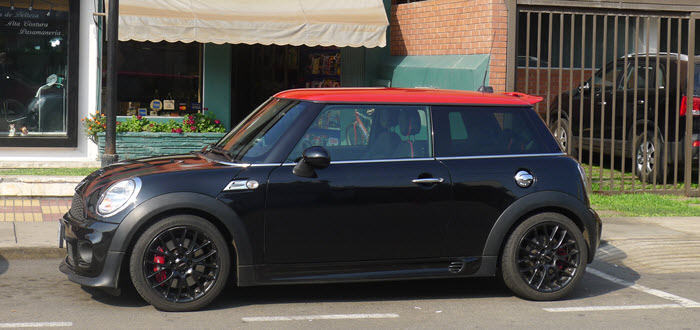 Final words
Finding the right automotive shop in the Spring and Houston areas can be challenging; businesses are competitive, and it can be difficult to gauge how trustworthy a shop is. Das European Autohaus is well known for their European import specialty, accurate diagnoses, and honesty. Employing only certified MINI technicians to work on all Mini Coopers, they have specialized knowledge and training with German engineering and design. Furthermore, the experts at Das European Autohaus are all car enthusiasts themselves—they can respect the impressive amount of work that MINI manufacturers devote to each model. This unique approach to auto mechanics combined with their philosophy on customer service makes them one of the leading shops in Spring and Houston, TX. Stop by the shop today to have your fluid levels checked, a tune-up, tire rotation, or simply check out the facility and meet the staff. They want to make sure that your MINI, BMW, or other import vehicle is driving at its best each day.
Image credit goes to : AdrianHancu & ManuelGonzalezOlaecheaFranco