Summer is the time of year when families like to pick up and drive off on their favorite annual road trip, or travel long distances to get away from the stressors of daily life. Because summer brings its own challenges, like incredible heat and the irresistible urge to travel long distances, automotive care may not be at the forefront of your mind. However, when your car is steaming on the side of the road with a tire blown to pieces all over the place, you will wish you had paid a little more attention to your travel companion. If you have a trusted mechanic to bring your car to, they can help you look for any potential issues such as tire tread and pressure, and other significant areas of interest that can become vulnerable to high temperatures and heavier usage. It is important, however, that average car owners know a few vital ways to pay closer attention to their vehicles, especially when it is particularly hot outside. Whether you decide to go on a long road trip, or you are staying in town commuting to work over the summer, there are a few things you should look into before you hop in your car and beat it down the highway.
Check the coolant & hoses
During hot temperatures your car tends to work extra hard, and can exceed typical temperatures within the engine. The best way to make sure you do not end up stranded on the side of a road with an overheating engine is to keep an eye on the coolant levels. Firstly, checking the coolant in your car for cleanliness and fullness are vital to making sure that the temperature stays regulated properly while driving your car excessive distances or for long periods of time, especially when the external temperature rivals that of your vehicle. Secondly, if you are going on a long drive, it would be in your best interest to check the hoses also to look for cracks or leaks—the last thing you want is to realize you are leaking coolant halfway to your destination.
Check tire tread & pressure
Thirdly, as mentioned before, another important summer car care tip is to regularly check your tire tread and pressure. This is something that every car owner should do regularly, despite the weather; but in warmer temperatures in particular the rubber on your tire may become especially compromised, leaving you with a blowout or a leaking tire. If you notice that the tread on your tires is uneven, then one or more of the tires may be compensating for something. This is problematic for several reasons: firstly, there may be another problem that the uneven tread is indicative of; and secondly, this means that the tire with low tread may be compromised.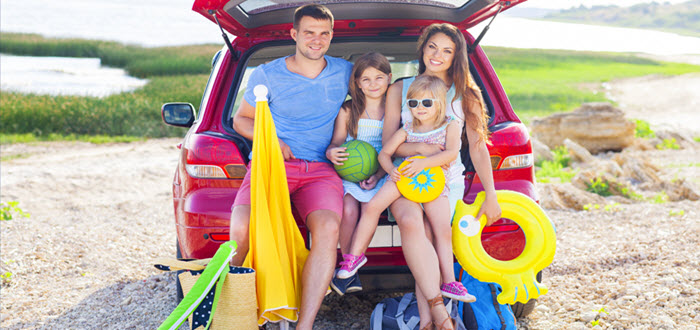 Take your car to a mechanic
Fourthly, it is always a good idea to take your car to your favorite mechanic for a checkup before leaving town, but just to be safe, before you go on a long trip make sure you have all the essentials for changing a tire: jack, wrench, spare tire. You should also check the spare tire for quality before leaving.
Check the air filter
Fifthly, in addition to checking all the vital fluids such as motor oil, brake fluid, power steering fluid, and transmission fluid, you should also be sure to check the air filter before summer. Because you will likely be using your air conditioning more during the summer, it is important that the airflow into the cabin as well as into the engine is working properly. The last thing you want is for debris to reach any part of your engine that your air filter could have prevented, or for your air conditioning to become clogged in hundred-degree heat. Staying on top of the air filter is relatively easy: if it looks dirty, it is; if it looks clean, it is. However, if you're not sure whether or not to replace the air filter, bring it to a professional automotive service center for inspection. If you are not sure what your specific car needs, it is always helpful to refer to the manual that is designated for your vehicle alone. Also, never hesitate to bring your car to the professionals. When summer hits, its better to be safe than sorry.